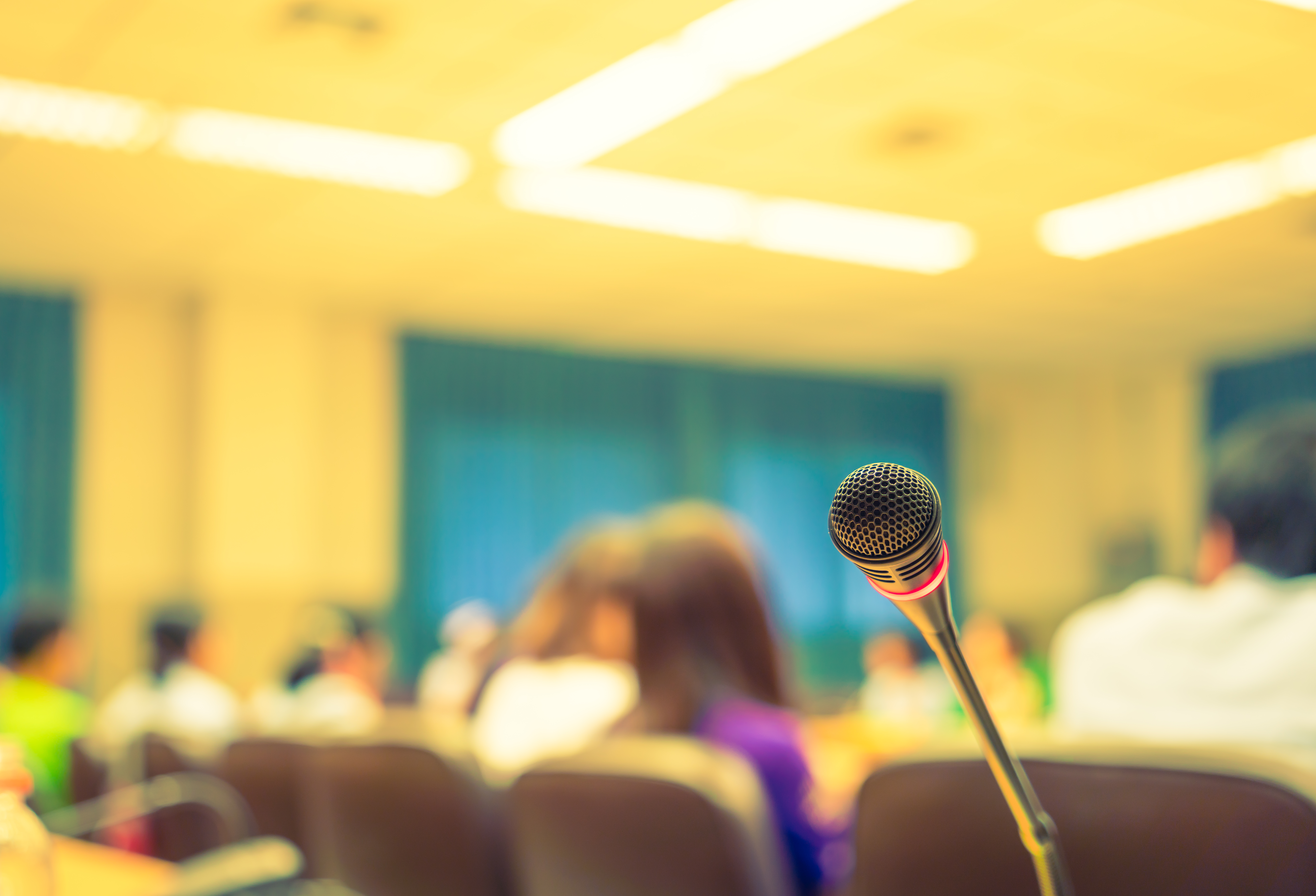 Elevate Your Conferences with SURE MXCW Conference Microphones – A Shure Innovation
At Abalingua, we are dedicated to providing top-notch audio-visual solutions for your conference and interpretation needs. One of the standout products in our arsenal is the SURE MXCW conference microphone system, backed by the renowned Shure brand. We're proud to invest in these exceptional microphones, and we couldn't be more thrilled with their performance.
Unparalleled Sound Quality
The SURE MXCW conference microphones are designed to deliver crystal-clear audio, ensuring that every word spoken during your conference is heard with impeccable clarity. Whether you're hosting a small meeting or a large-scale conference, these microphones are up to the task, providing exceptional sound quality that leaves a lasting impression.
Wireless Convenience for Fixed Positions
While the SURE MXCW system offers wireless freedom, it's important to note that these microphones are designed for fixed positions within your conference setup. You won't be tethered to a microphone stand or podium, enhancing the aesthetics of your conference space and allowing for a more dynamic and engaging presentation.
Effortless Setup and Management
Setting up the SURE MXCW conference microphones is a breeze. They come equipped with user-friendly features that make installation and configuration quick and hassle-free. Plus, their intuitive interface ensures that even non-technical users can operate them with ease.
Customization for Your Brand
Our clients love the ability to personalize their conference microphones by adding their logos. This feature allows you to showcase your brand identity and professionalism during every event. The SURE MXCW microphones feature a built-in screen where your client's or conference's logo can be prominently displayed, creating a lasting impression on your audience.
Exceptional Wireless Performance
The SURE MXCW system operates in the same RF spectrum as Wi-Fi devices (2.4 GHz and 5 GHz). However, it uses a combination of 802.11a/g WLAN standards and Shure-proprietary transmission protocols, making it distinct from Wi-Fi devices. It doesn't interfere with Wi-Fi devices and is not interfered with by them. In fact, it can even operate on the same wireless channel as a Wi-Fi access point. The MXCW system's unique design ensures robust and reliable wireless performance, even in overcrowded spectrum conditions with the maximum number of units operating.
Flexible Conferencing with Shure's MXCW System
Whenever and wherever REAL participation is vitally important, Shure's Microflex Complete Wireless (MXCW) system is THE solution for flexible conferencing audio. MXCW is a portable, rechargeable, wireless microphone and speaker system that allows every participant in your conference to hear and be heard by every other participant regardless of room infrastructure or configuration. Whether it is used as an everyday system in a meeting room, or stored on a cart and wheeled to temporary conference areas across campus, the easy-to-use components can be deployed wherever the needs of your organization demand.
Complete Solution
The system is comprised of three main components:
– MXCW640 Wireless Conference Unit – Contains the speaker, microphone, 4.3″ color touchscreen (which can be used for voting during a meeting), individual controls, and use status indicators. These units are positioned where participants need them and can be provisioned with varying permissions to allow users full to limited control. The units are powered by rechargeable batteries and include a lockable MXC-series gooseneck microphone connection and dual 3.5mm headphone jacks. NFC ID card slot can be used for participant identification.
– MXCWAPT Access Point Transceiver – The hub of the system, it manages audio routing, frequency coordination, and system control for up to 125 conference units. During setup, the Access Point scans for the clearest available frequency bands and communicates to the conferencing units through AES-128 encryption. The Access Point supports up to 10 input channels and 10 output channels and includes a Dante networked audio connection. Powered by standard PoE or power injector, it can be mounted on a wall or ceiling, or placed on a table or stand for portable use.
– SB930 Rechargeable Batteries – With over 11-hour life per charge, SB930s charging in the MXCWNCS Networked Charging Station takes just 1.5 hours for 50% charge, and 4 hours for 100%. When the batteries are in use in a Conference Unit, they can be individually recharged via Micro USB.
A Legacy of Trust – Shure
Shure is one of the most respected and well-known microphone brands in the music industry. Founded in 1925, the company has a long history of producing high-quality microphones used by musicians and performers at every level of their career. This legacy of trust extends to the world of conference microphones, with the SURE MXCW system being a testament to Shure's commitment to excellence.
Get in Touch for the Best in Wireless Conference Microphones
If you're ready to elevate your conference experience and provide your audience with the best audio quality available, it's time to consider the SURE MXCW conference microphones. Abalingua is your trusted partner in AV solutions, and we're excited to bring you the latest in wireless microphone technology, backed by the legacy of Shure's trustworthiness.
Don't compromise on the quality of your conferences. Contact us today to learn more about the SURE MXCW conference microphones and how they can take your events to the next level. Experience the difference for yourself and make your conferences truly unforgettable.
Connect with us now and ensure that your audience hears every word, loud and clear.